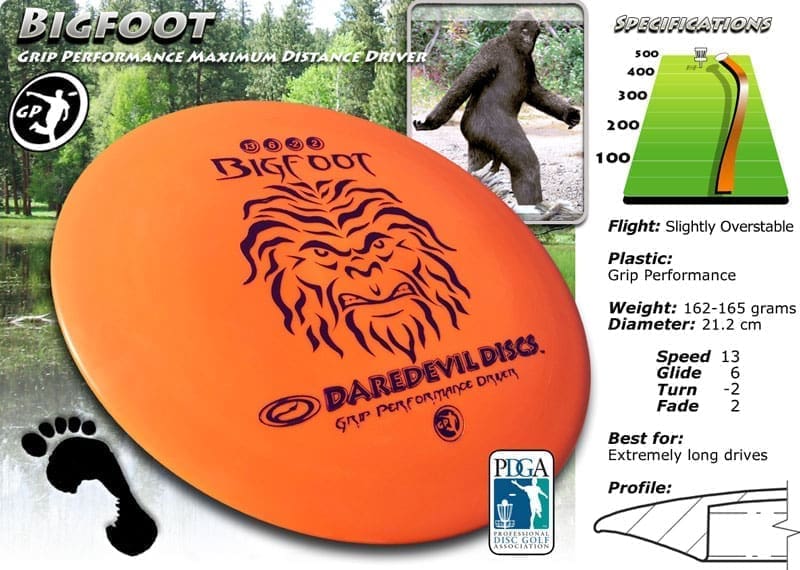 Disc Description
Made from our new super durable grippy 'Ultra Plastic'. This very fast disc has a unusually wide rim and extremely low profile for maximizing every drive. Great for those newcomers who need a good distance driver.
Ultra Performance Plastic – Durable opaque plastic similar to our 'High Performance' plastic with improved grip and a little more flex.
Animal Info
The 'Bigfoot', also know as 'Sasquatch' is described in reports as a large hairy ape-like creature that inhabits forests, mainly in the Pacific Northwest region of North America. Ranging between 6-10 feet (2-3 m) tall, weighing in excess of 500 pounds (230 kg), and covered in dark brown or dark reddish hair. The term "sasquatch" ("Sésquac") means "wild man" in the Native American language.
Bigfoot is commonly reported to have a strong, unpleasant smell by those who claim to have encountered it. The enormous footprints for which it is named have been as large as 24 inches (60 cm) long and 8 inches (20 cm) wide. It is claimed that Bigfoot is mainly nocturnal, so there is no threat of being attacked when you are playing disc golf in the woods during the day.
Flight Rating Descriptions
SPEED Speed is the ability of the disc to cut through the air. Speed Ratings are listed from 1 to 14. Discs with high numbers are faster. Faster discs go farther into the wind with less effort. Slower discs take more power
to throw, but have less of a chance
to fly past the basket.
GLIDE Glide describes the discs ability to maintain loft during flight. Discs with more glide are best for new players, and for producing maximum distance (especially downwind). Glide is rated from 1 to 7. Beginners looking for more distance should choose discs with more glide.
TURN High Speed Turn is the tendency of a disc to turn over or bank to the right (for righthand backhand throws) during the initial part of the flight. A disc with a +1 rating is most resistant to turning over, while a -5 rating will turn the most. Discs rated -2 to -5 make good roller discs.
FADE Low Speed Fade is the discs tendency to hook left (for righthand backhand throws) at the end of the flight. Fade is rated from 0 to 5. A disc rated 0 will finish straightest, while a disc rated 5 will hook hard at the end of the flight. Discs with a high fade rating are predicable even in wind.