Team Daredevil Disc Golf 2023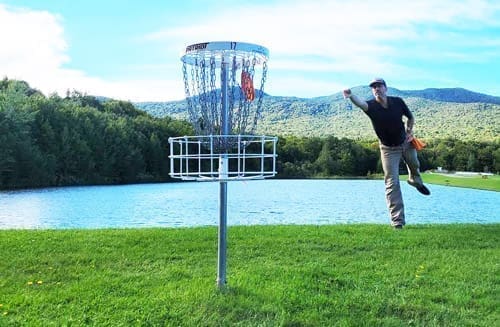 Stéphan Leduc
NICKNAME : Supurpleman
FROM: Montreal (Qc, Canada)
FIRST ACE: May 11, 2022 #8 at Yodaco private DGC (Mirabel, Quebec, Canada).
FAVORITE DGC: Rouville (Qc, Canada).
FAVORITE DISCS: Beaver, Timberwolf, and Sabertooth.
FIRST ROUND: 2014 at White Spruce (Brampton, ON, Canada).
TRIVIA: I first heard about disc golf in early 2014 and i though it was only a made-up (Nintendo] WII game; little did i know it was a real sport. I then played my first round, and that was it for me; i had caught the DG lifetime bug for life.
HOBBIES/SPORTS: Ice hockey, ball hockey, beach volleyball, watching movies, listening to music, attending concerts and festivals, drinking craft beers in good company, and last but not least; playing DG and throwing DDD plastic.
WHY DDD : Canadian company with great molds, plastics, disc names and artwork, and a lovely family.
RYAN HUGHES
PDGA# 72647
Started: August 2014
Favourite discs: Polar Bear, Moose, Albatross
Home Course: Lakewood Park, Tecumseh, ON
First Ace: Blue #2 BRATS Red, White and Blue
Favourite saying: "That wind is savage"
Disc golf has become a huge part of my life. I believe it will continue to grow for decades. It's a grass roots thing, and I hope it stays that way. I love helping to #growthesport, and I love being a part of #teamdaredevil. My favourite part of the game, besides playing it myself, is giving a disc to a first timer and watching the excitement turn to addiction. I love disc golf.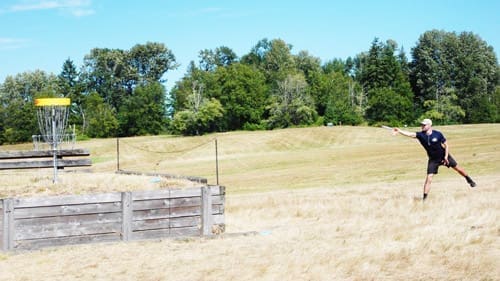 Jade Smith
PDGA# 250179
Favourite disc: Daredevil Woodchuck.
Favourite event: 2023 BC Club Championship, VCU 1st place!
From: Vancouver BC, and plays with the VCU Disc Gold Club. He has been playing since 2013, but only started pursuing it in the last few years. 
He has been competing in club events since 2021, and started playing tournaments in 2023. 
Before going all in on disc golf, Jade spent many years competing in Snowboard Slopestyle and parkour. 
This has been my go-to putter since last season. It has a great flight, and the elastic performance plastic allows you to run any putt, with little worry of skips or rolls.
ANDREW VALLEE
PDGA #44988
Currently reside in: Ottawa, ON
Favorite Daredevil discs: Polar Bear, Timberwolf, Wolverine
Predominantly throws: RHBH (Right Hand Back Hand)
Home course: The Shire
Started playing disc golf: 2006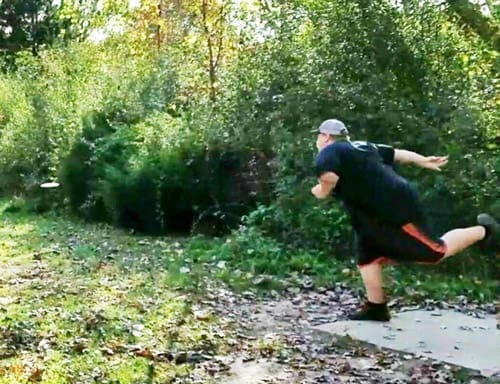 STEVEN SMITH
PDGA# 73233
Main drivers– Mammoth, Sabertooth, Timberwolve, Bigfoot, Albatross, Buffalo
Mid-range – Moose, Walrus, Caribou
Putters – Hellbender/Memphre, Big Horn, Woodchuck
Best finish – 1st in the Recreational division at Ledgestone Insurance Open (2019)
Favorite disc – Mammoth (7 aces)
Owen Wilson
Pdga #224982
Location : Salmon Arm, Canoe, BC Canada 
Born and raised : Leeds, United Kingdom 
Favourite disc : Timberwolf 
Favourite tournament snack : Haribo star mix. 
Started playing: 2021
I have a lot of thanks to disc golf and to the people that introduced me to the sport. It helped me get through one of the toughest times of my life! Now disc golf is life!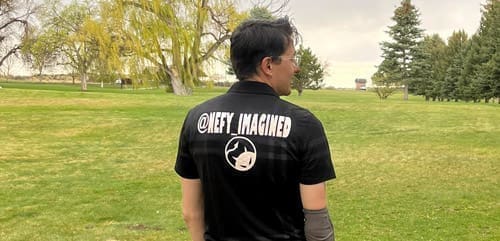 Nephi Shurtliff
PDGA # 188541
Favorite disc: walrus! I love this disc! Once you get it beat in a little it has the straightest flight of any disc I've used! Perfect for those straight 250-300ft tunnel shots.
Favorite course: Bailey's Crossing in Devon, Alberta, Canada.
First ace: with daredevils big horn disc at fort St. John's toboggan hill hole 4.
My friends introduced me to disc golf the summer of 2021, at first I was absolutely terrible! I couldn't reach 100ft to save my life. My friends had this seemingly magical way of throwing a disc three to four times farther than me with what looked like less effort. This was perplexing to me and started my trip down the disc golf rabbit hole of learning throwing techniques, different disc shapes, what beating in a disc does, wind reading and all that juicy knowledge needed to control my lines. I played everyday that summer developing my knowledge and understanding of disc golf. Putting what I've learned to the test I signed up for a local tournament in the novice division August 2021 and won, ever since I've been hooked! I'm always looking forward to meeting new rivals and making friends with every tournament I experience!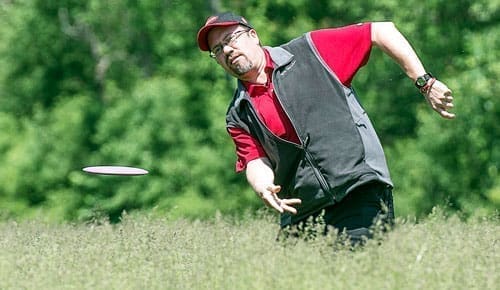 DON LANE
PDGA# 20617
Ottawa, Ontario, Canada
Started Playing: 1975
Favorite Discs: Timberwolf and Bighorn
First Ace: 1988, Strathgartney Provincial Park, Strathgartney, PE
Home Course: Larrimac Golf and Tennis Club, Chelsea, QC
Favorite Course: Hillcrest Farm, Bonshaw, PE
Formerly a competitive fencer and a recreational ultimate player. Don has been highly involved in the sport in many capacities over the years. He was the first Manager of PDGA Canada, the PDGA Provincial Coordinator for ON, and on the executive of two provincial associations (ODSA and Disquébec). 
He was heavily involved in the Québec Disc Golf Tour and the Tournée Pro-Am Disc Golf, and has been the TD or Co-TD of many A, B, C, and unsanctioned events in three provinces (ON, QC, & PE), namely Le Phé-Nominingue (A), Cdn. Nat'l Ch'ships (A/B), Outaouais Open (C), The Plaid Jacket, Ottawa Ice Bowl, Worlds Biggest, Ottawa Tree-Oh Challenge (unsanctioned). 
He has played disc golf in 9 provinces and 1 territory in Canada and looks forward to completing his cross-country tour by playing in NL, NU, and NT.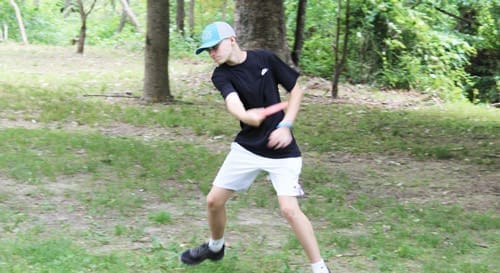 Ryan Hancock
PDGA #250932
Started Playing: 2022
Location: Baltimore, MD
Favorite Daredevil discs: Hellbender Razorback, Timberwolf. 
Home course: Druid Hill Park
Favorite course: Hickory Heights Golf Club 
Baseball was one of my favorite activities when I was growing up, until November of 2022 when my dad bought a couple of putters from our local sports shop. The first time my brothers and I went to the course I immediately fell in love with the sport and kept trying to improve every time I played. On Christmas of 2022, my brother and I both got disc golf bags and after that we could not stop buying discs. In March of 2023, I played my first tournament, and I couldn't get enough of it. I'm still always trying to improve at the sport and grow it as much as I can. I recently won 2nd place at 12th Canby West Cookout in MA3 in Delaware.
Sean Hancock
PDGA# 249070
Started Playing: 2022
Location: Baltimore, MD
First Ace: Pine Grove Middle School Hole 3 long.
Favorite Daredevil discs: Hellbender Killer Whale, Pteranodon, Wolverine. 
Home course: Druid Hill Park 
Favorite courses: Canby West Park and Spilman Park. 
I found the amazing sport of disc golf in November of 2022. This was the perfect small hobby for me outside of constant baseball and school. Fortunately, disc golf became more than a hobby once I got involved in the community. My accomplishments include winning 1st place at 12th Canby West Cookout in MA3 in Delaware. Recently, I have been participating in tournaments and leagues all around the area. I hope to keep learning the game and gaining skills overtime.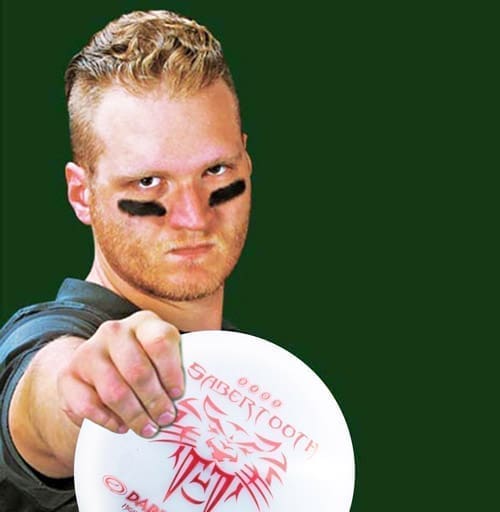 Rick Singleton
PDGA #68154
FIRST ACE – #15 Ferrettie Baugo Disc Golf Course
FAVORITE COURSE – Flip City
FAVORITE DISCS – Timberwolf, Sabertooth, Polar Bear
FROM – Mishawaka, Indiana, USA
Started playing the sport in 2013
I was first introduced to the Daredevil brand of disc golf disc in 2015. Within a few weeks I was on the phone
with Daredevil trying to figure out a way to work with their company, after putting my hands on the  discs I knew that
this company was the real deal. I found the discs to have unmatched reliability,
consistency, great feel, cool stamps and most of all I found the crew at Daredevil to be amazingly fun to work with.
I played three seasons with team Daredevil from 2015-2017 but took a hiatus from the sport due to an injury and I also
started another amazing journey in my life, I became a father. Now that I am healthy… My first call was back to
the crew at Daredevil. Daredevil to me is the next disc golf manufacturer that will make major waves.
Amazing plastic, great molds, awesome people and a passion for the sport. I Could not be more proud or
excited to represent any other company than I am to represnt Daredevil in the 2023 season.
Tiernan Hancock
PDGA# 252789
Started Playing: 2022
Location: Baltimore, MD
Favorite Daredevil discs: Woodchuck, Moose, Yeti. 
Home course: Druid Hill Park
Favorite course: Pine grove middle school
Me and my brothers go out to the local disc golf course all the time. It is very relaxing to go and play for fun and meet new people. I am now only nine-years-old years old but I'm thankful I get the opportunity to learn this sport at such a young age. Over the past coupe months, I have enjoyed video taping my brothers and posting photographs and comments on our Instagram page hancock.dg.
Hank Lancet
PDGA 118144
Goes by Nuclear Blobfish on UDisc and can huck discs way better than your run-of-the-mill blobfish. Was a fanboy of 'Daredevil Discs' long before joining Team Daredevil Discs. It happened one cool summer afternoon when he was looking for an understable putter online and the description for the Woodchuck sounded intriguing. That disc changed his whole perspective on the short game and got him to start trying out other Daredevil molds. The Timberwolf revolutionized his fairway driver control, the Mammoth became the first OS fairway driver that he connected with, and he turned heads by using the unorthodox Ogopogo instead of an OS midrange to take advantage of the dead flop that Elastic Performance plastic generates. He was super geeked out to get to test the Hellbender prototypes this past summer and now considers the Memphre and Killer Whale to be bag staples. 
His all-time favorite plastic blend is Daredevil's Flex Performance. Not surprisingly, his go-to drivers are the Timberwolf, Mammoth, and (rarely) the Merlin. The Hellbender Memphre is his favorite forehand approach disc.
He considers himself to be a RHBH player, but in the past year, his focus on the forehand has changed a lot of his shot selection and has saved many trees from an inadvertent pruning. Off the tee nowadays, he's just as apt to flick a hyzerflip Timberwolf as he is to rip a backhand (also hyzerflipped) Timberwolf. He has an odd quirk in his game: he got rid of his X-step and plays exclusively from standstill. He initially did this because he kept missing his mark and didn't want to get called on a foot fault. He continued developing his style because he's a physics teacher and is convinced that throwing from a standstill is like pitching from the stretch, and that good form out of a standstill will pay off without the risk of falling like Kevin Jones on his memorable ace. Lgdfg not getting any younger and while he has been known to play a tournament in a sling a month after getting shoulder surgery on his non-throwing arm, he'd rather NOT have to do that again.
He thinks every new arm should try throwing a caribou. One of the toughest early hurdles for new throwers is generating snap, and that's especially difficult with a weak grip. The Grip Performance plastic makes the caribou pretty much the easiest midrange for beginners to pick up and throw for appreciable distance. He often hands out caribous to new players.
He's pictured here with his trusty Memphre and with Kesha, the ridiculously dyed Timberwolf.
GEOFF PENTON
PDGA# 20595
Ottawa, Ontario, Canada
Favorite Disc – Moose
Long time ambassador for Daredevil Discs.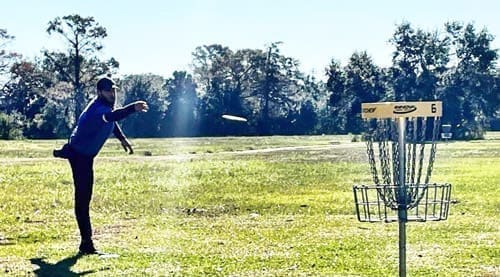 Jacques Theriot
PDGA# 108975
Started: March 2018
Favorite discs: sabertooth and salamander
Home course: Lafreniere Park Metairie, LA
First ace: old hole 19 @ Lafreniere park, now hole 6
I started playing disc golf in 2018. I started with only 3 discs and my love for this sport has blown up immensely. I have managed to work my way thru every division and now play in the mpo division. I will continue to grow this sport to the best of my abilities while throwing some of the best plastic produced by DareDevil Discs. I can't wait to see what the future holds for us all!